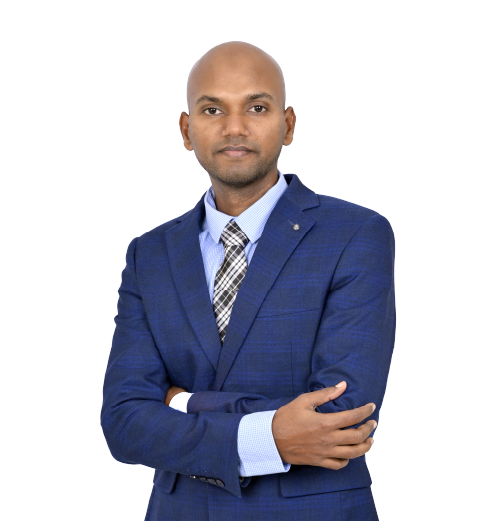 Dr. Shafiq Rahman
Specialist Internal Medicine
---
Years of Experience:
10 years
Nationality:
Indian
Languages Known:
English, Hindi, Tamil
Qualification:
MBBS | MD | MRCP | CCEBDM
Book Appointment
Biography
Dr. Shafiq Rahman is an experienced Internal Medicine Specialist with a decade of experience in treating both Acute and Chronic illnesses. His expertise lies in the field of Diabetes mellitus and Critical Illness. Throughout his career, he has dedicated his services to a Tertiary Care Hospital, where he has treated a diverse range of medical patients, with a special focus on Diabetes and its associated complications.
Dr. Rahman possesses extensive knowledge and experience in managing critical cases, including his proficiency in performing procedures such as Endotracheal Intubation, Central Venous and Arterial Cannulation, Pleurocentesis, Abdominal Paracentesis, and Lumbar puncture. His expertise also extends to intensive care, ensuring comprehensive and specialized care for his patients.
Dr. Rahman has made significant contributions in the fight against COVID-19 by serving COVID patients for a period of two years. His dedication and exceptional service during this challenging time earned him State Awards and recognition for his outstanding commitment to patient care.
With his vast experience, specialized focus on Diabetes mellitus, and comprehensive medical skills, Dr. Shafiq Rahman continues to provide exceptional care to his patients.
Awards & Achievements
Mayan Award 2020 for COVID service from SIMS Hospital
COVID WARRIOR Award 2021 for COVID service from SIMS Hospital
Expertise
Diabetes mellitus and its complications
Hypertension and its complications
Dyslipidemia management
Thyroid disorders treatment
Acute and Chronic infections
Critical Illness management
Membership
Member of Royal College of Physicians
Other Internal Medicine Experts