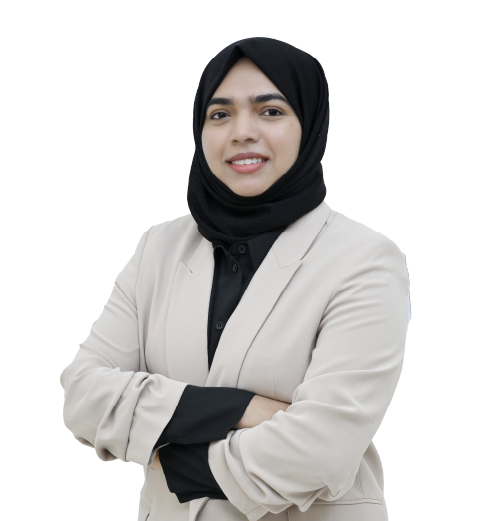 Dr. Selma Cholasseri
Specialist Dermatology
---
Years of Experience:
7+
Nationality:
Indian
Languages Known:
Arabic, English, Malayalam, Hindi
Qualification:
MBBS, MD, DNB, MRCP(SCE)
Book Appointment
Biography
Dr. Selma Cholasseri is a Specialist Dermatologist at LLH, Abu Dhabi, with over seven years of experience in treating adult and pediatric dermatology patients. She received her medical degree from the prestigious All India Institute of Medical Sciences (AIIMS, New Delhi) and MD Dermatology from PGIMER, Dr. Ram Manohar Lohia Hospital, New Delhi. She also holds a Diplomate of National Board (DNB) degree from the National Board of Examination, New Delhi, and a Speciality Certificate Examination from the Member of Royal College of Physicians (MRCP-SCE), UK.
She has previously worked at Asad Al Hamad Dermatology Centre, Ministry of Health, Kuwait, for over 3 years in Pediatric Dermatology and Genodermatoses Unit. Her areas of expertise include radio cautery for wart, corn, nevus removal, intralesional injection for keloids, cryotherapy, microneedling for acne and acne scars, chemical peeling for various dermatological disorders, PR and GFC therapy for hair fall, and Laser hair reduction. Her areas of expertise include,
Pediatric dermatology
Chemical peeling
Intralesional injection
Skin biopsy
Microneedling
PRP and GFC therapy
Laser hair reduction
Awards & Achievements
University Topper in Final MD Dermatology Examination, Guru Gobind Singh University, New Delhi, 2018.
Second prize in State-level IADVL Quiz, 2017.
Instructor for Subject Tutorials in Final MBBS examination, 2014.
Research & Publications
"Coexistence of atypical tuberculid with lupus vulgaris in an 11-year-old girl." Published in Pediatric Dermatology, 2022.
"Progressive targetoid rash in an adolescent girl." Published as an e-learning case in ISPD, 2021.
"Subcutaneous nodules in hands and feet in a 10-year-old boy." Published as an e-learning case in ISPD, 2022.
Membership
International Society of Pediatric Dermatology (ISPD)
Indian Association of Dermatology, Venereology, and Leprosy (IADVL)
Kuwait Society of Dermatologists (KSD)
Indian Medical Association (IMA)